PROPOSED PROTECTIONS

FEATURES
Beaver Creek
Beaver Creek and its tributaries on the south slopes of the Pikes Peak massif carve deeply incised granite canyons with tumbling cascades, waterfalls, and calm pools. The area forms a crucial ecological link between the alpine high country of Pikes Peak and the arid rangelands of the high plains outside Colorado Springs. Its streams and canyons offer year-round opportunities for hiking and backpacking, fishing and hunting, nature study and rock climbing.
Little Bookcliffs
Little Bookcliffs encompasses thousand-foot canyon walls that rise from the Colorado River, and the vertical face of the Bookcliffs towering above the Grand Valley. A network of twisting canyons contain trickling desert streams graced by cottonwoods, lined by hoodoos and even natural bridges. The area overlays the Little Bookcliffs Wild Horse Range, and the attractions draw hikers and equestrians throughout the year.
Redcloud Peak
Redcloud Peak includes two of Colorado's famed fourteeners in the heart of the San Juan Mountains outside Lake City – 14,034-foot Redcloud Peak and 14,001-foot Sunshine Peak. The lower valleys are steep-sided and of glacial origin, lined by spruce-fir forests broken by stands of aspen. A network of trails entices mountaineers seeking to scale the peaks and anglers dipping their lines in Cooper Lake or nearby streams.
MAP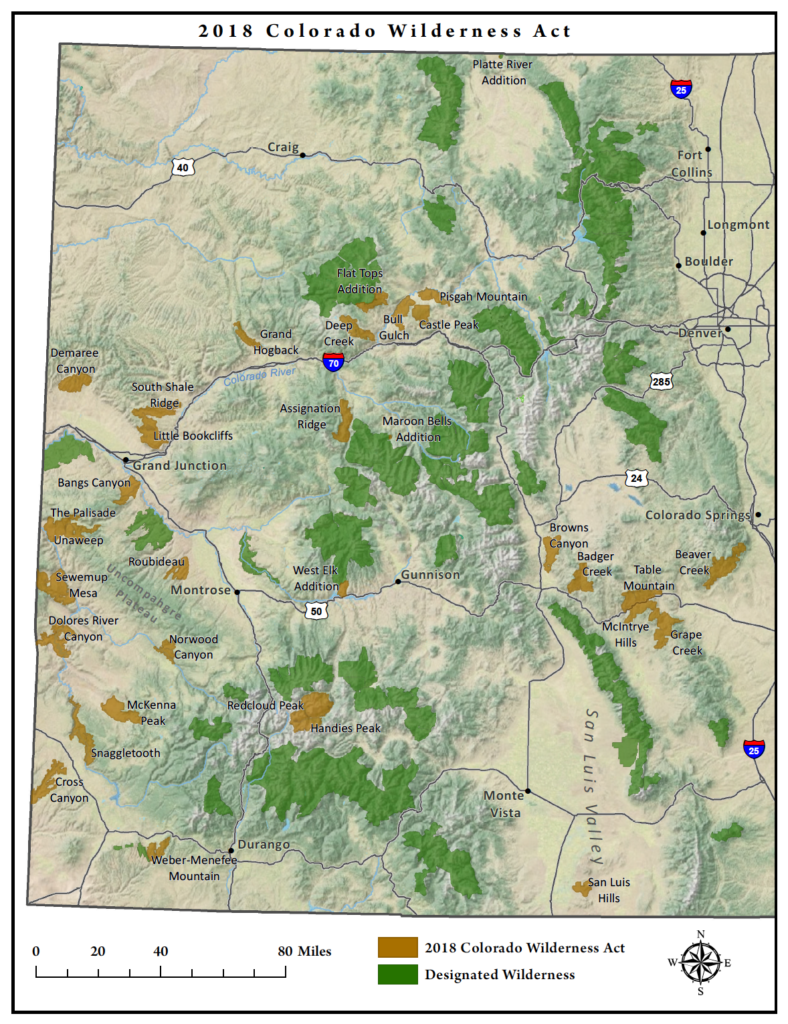 TABLE
| | |
| --- | --- |
| Proposed Wilderness Area | BLM Acres |
| Assignation Ridge Proposed Wilderness | 25,232 |
| Badger Creek Proposed Wilderness | 25,192 |
| Bangs Canyon Proposed Wilderness | 20,996 |
| Beaver Creek Proposed Wilderness | 38,253 |
| Browns Canyon Proposed Wilderness | 22,654 |
| Bull Gulch Proposed Wilderness | 20,171 |
| Castle Peak Proposed Wilderness | 16,230 |
| Cross Canyon Proposed Wilderness | 26,776 |
| Deep Creek Proposed Wilderness | 20,742 |
| Demaree Canyon Proposed Wilderness | 25,897 |
| Dolores River Canyon Proposed Wilderness | 34,867 |
| Flat Tops Addition Proposed Wilderness | 16,305 |
| Grand Hogback Proposed Wilderness | 11,291 |
| Grape Creek Proposed Wilderness | 35,535 |
| Handies Peak Proposed Wilderness | 26,557 |
| Little Bookcliffs Proposed Wilderness | 29,045 |
| Maroon Bells Addition Proposed Wilderness | 312 |
| McIntyre Hills Proposed Wilderness | 17,213 |
| McKenna Peak Proposed Wilderness | 33,114 |
| Norwood Canyon Proposed Wilderness | 12,986 |
| Pisgah Mountain Proposed Wilderness | 14,538 |
| Platte River Addition Proposed Wilderness | 31 |
| Redcloud Peak Proposed Wilderness | 38,176 |
| Roubideau Proposed Wilderness | 17,660 |
| San Luis Hills Proposed Wilderness | 10,871 |
| Sewemup Mesa Proposed Wilderness | 45,220 |
| Snaggletooth Proposed Wilderness | 31,752 |
| South Shale Ridge Proposed Wilderness | 27,517 |
| Table Mountain Proposed Wilderness | 27,719 |
| The Palisade Proposed Wilderness | 27,150 |
| Unaweep Proposed Wilderness | 20,420 |
| Weber-Menefee Mountain Proposed Wilderness | 14,339 |
| West Elk Addition Proposed Wilderness | 6,846 |
| Total | 741,607 |